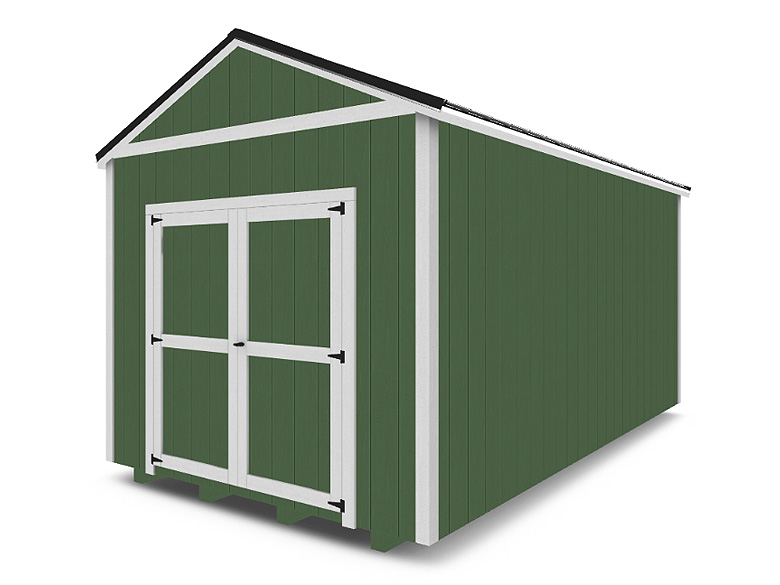 Painted Aframe
Our standard Painted Aframe come with:
Walls are built with 84 inch studs, total wall height with plates is 88.5 inches tall.
House fiberglass doors are standard 3 feet wide by 6'8″ tall.
Double Wood doors are 6 feet wide by 82 inches tall.
Single wood doors are 3 feet 6 inches wide and 82 inches tall.
We use a premium paint on the exterior walls and trim that boasts an impressive 10 year no-fade guarantee and a 25 year adhesion guarantee. This on top of our 7 year workmanship warranty gives you the peace of mind you deserve and that we strive to achieve with every building that rolls out of our shop.
Standard Features
We offer the following standard features on our Lofted and A-frame Painted Wood barns: The gambrel and A-frame rafters on our Painted Wood Barns are set on 78 in walls and give these buildings extra spaciousness. For even more storage space choose an optional loft and put it on either end of the shed.
Joists
8′, 10′, 12′ and 14′ wide 2×4 8′, 10′, 12′ and 14′ wide are 16″ OC
Runners
8′ and 10′ wide get two runners (skids)​ 12′ and 14′ wide get four runners (skids)
Studs
All widths receive 16″ OC stud spacing All studs premium #2 European Spruce
Siding
3/8″ 4″ OC grooved LP® SmartSide® with 50 year limited warranty
Trusses
All standard lengths receive 24″ OC truss spacing All widths receive 2×4 trusses
Flooring
All lengths receive 3/4″ flooring
Paint/Urethane​
All lengths receive paint Trim may receive different paint color than siding